The Tweeddale brand hasn't been around since before the 2nd World War and was only resurrected in 2010 after Alasdair Day inherited his Great Grandfathers cellar book which contained the original recipe. It is now produced in small batches, following that recipe, using the same distilleries in the same quantities, a 50/50 blend of grain and malt whisky taken from just 9 single casks featuring whiskies from the Lowlands, Highlands, Speyside and Islay. In Batch 1, one cask of grain and one of malt is used entirely and the other 7 casks were used in differing quantities and then left to carry on maturing. These 7 malts have then been used in batches 2, 3 and 4 but with a different grain and 8th malt bought in each time. All 4 batches have been bottled at 46% and non chill filtered with batches 3 and 4 being non coloured as well.
I was first introduced to the Tweeddale brand during the #12blends event, organised by Tom, as one of the blind samples that was to be tasted was Batch 2 of this blend supplied by Jonathon. I then purchased batch 3 and thoroughly enjoyed it and this now leads to this post which is my notes from all 4 batches after taking part in a tweet tasting run by The Whisky Wire.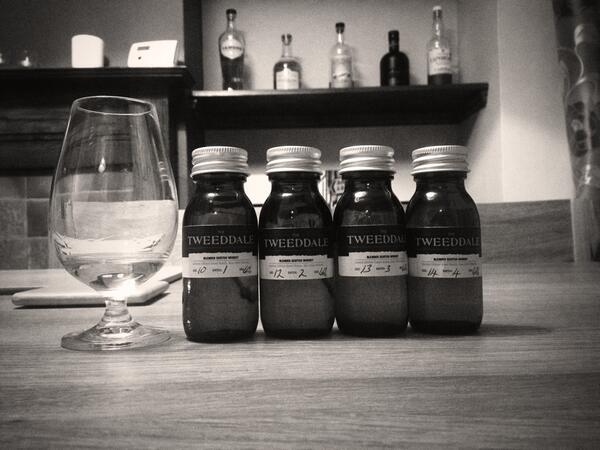 Photo courtesy of Living Room Whisky
So starting with Batch 1 10yo 46%, a blend of 10yo grain and 8 single malts ranging from 10 to 21yo.                                                                                                                                 Nose. Malty, lemon and lime, biscuits, hints of smoke, lightly spiced stewed apples.            Palate. Quite a spicy kick, creamy sweet at first but turning slightly sharp, lots of fruit apples and berries with a dash of lemon.                                                                                 Finish. Slightly dry, woody and spicy (cinnamon).
Batch 2 12yo 46%, this time the grain is a 15yo from a sherry butt with the 7 malts from batch 1 now older from 12yo up to 21 and the 8th core malt is a 14yo.                                 Nose. Slightly earthy, woody, with woodland fruits drizzled in honey, with a little nip of alcohol burn.                                                                                                                  Palate. Well rounded, honeydew melon, cream, slightly fizzy like refreshers, with some raisins in the mix.                                                                                                           Finish. Sweet and creamy with spiced oranges as it develops.
Batch 3 12yo 46% is actually a 13yo but was labelled as a 12yo on request of the LCBO for Canada, the grain is an 18yo from sherry butts, again the 7 remaining malts from batch 1 although a year older and the main malt is another 14yo cask.                                            Nose.  Lots of fruit, slightly tropical, earthy, slight sulphur, chocolate, green fruits and a sea spray and iodine note.                                                                                                         Palate. Spiced fruits, brown sugar, coats the mouth wonderfully, a little warmth like a good ginger beer developing on the tongue, oakiness  and dark chocolate.                             Finish. Long, slightly dry but with rich fruit and spice.
Batch 4 14yo 46%. The core malt in this blend is a 14yo Lowland matured in an Islay cask, with a slightly younger 16yo single grain and the same 7 malts from previous batches.     Nose. Spirity, quite a bite of alcohol, baked vanilla cheesecake, ginger nut biscuits, lemon zest, dried grass and flowers.                                                                                             Palate. The refreshers fizz is back along with the spicy fruits that seem to be present in all 4 batches for me with heaps of red berries and icing sugar and a nice light smokiness at the end.                                                                                                                               Finish. Tropical fruitiness with a ginger/pepper warmth with that fizziness dancing on the tongue.
Overall batch 4 was the whisky which probably came out on top for me it just seemed to be the most together of the 4 whiskies although I'm still really enjoying batch 3 which I'm drinking as I write this but I know what will be replacing that bottle when its finished.
Thanks must go to Steve Rush and Alasdair Day for organising and supplying the samples and all the other tasters on the night.